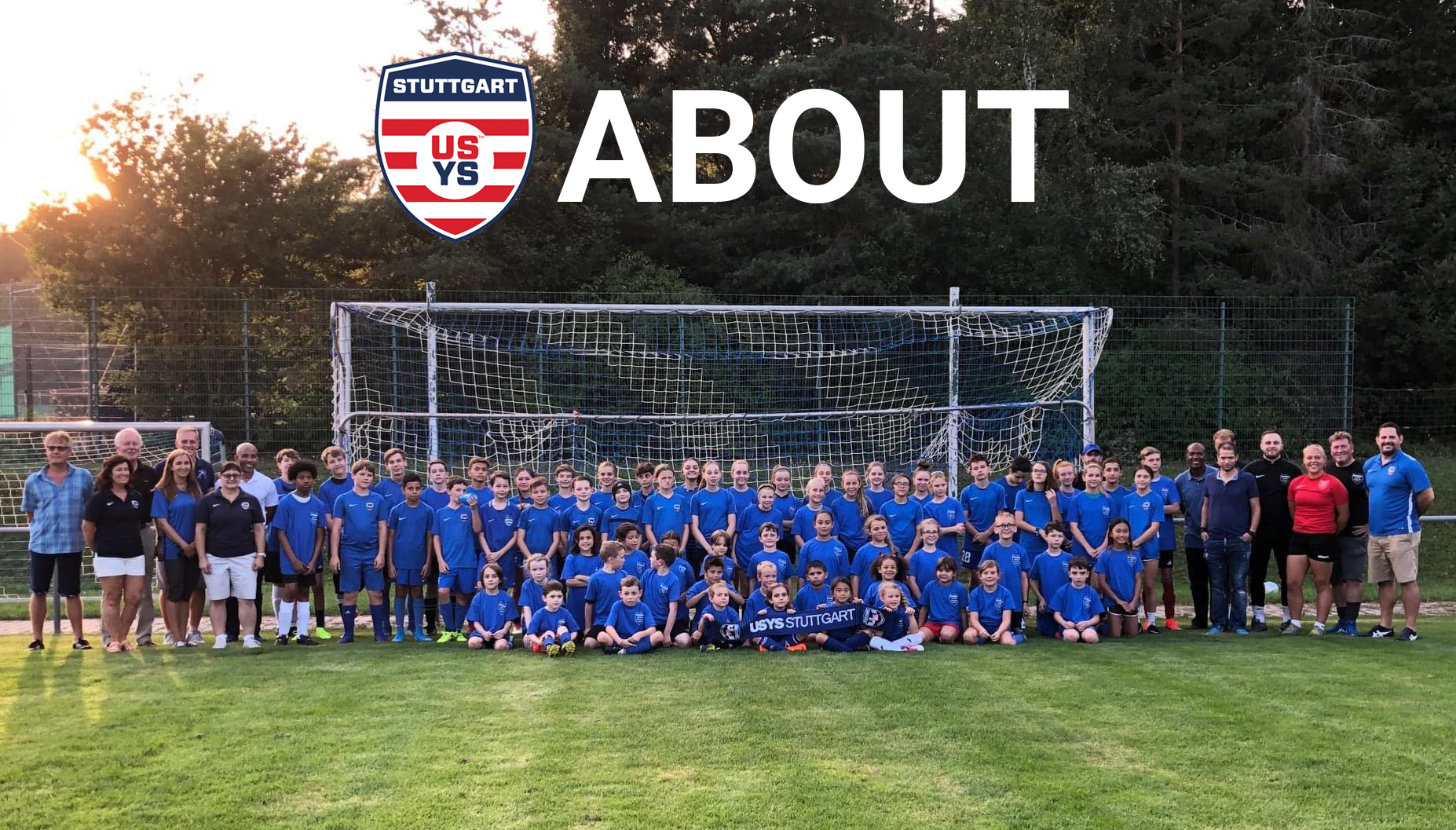 To create and nurture a soccer environment and club which attracts the best U.S. youth soccer players in the Stuttgart, and is unmatched in both quality and quantity in United States Youth Soccer (USYS).

To provide an unparalleled, developmental, yet competitive soccer experience for U.S. youth soccer players in the Stuttgart under the age of 18, through the sport of soccer and positive community relationships between the U.S. and local national youth.  Partner with former professional, and English speaking, German players and the UEFA-licensed coaches to foster the physical, mental, and emotional growth and development of its youth, Stuttgart District Soccer will work to be recognized by USYS Europe as the exclusive member of U.S. Soccer and as the premier competitive soccer club in Europe for American players.
STRATEGIC ORGANIZATIONAL PRIORITIES
1. Enhance the club to promote the best positive environment for players (Competitive or recreational) to reach their fullest potential on and off the field.
2. Deliver an avenue for players to compete against some of the best youth players in the Deutscher Fussball Bund (i.e.' German Football Association) and Europe. 
3. Promote a path for elite players to compete against the best American players in Europe in the USYS Olympic Developmental Program (ODP) Europe and provide the avenue for the best American players living in Europe to identify the elite players for the US national youth teams.
4. Make soccer a pleasant, safe, and rewarding experience for everyone involved.
5. Develop leadership qualities and sportsmanship among players, coaches, and parents.
6. Conduct ourselves as ambassadors to USYS in a positive manner and maintain working relationships with the local community.
7. Act in a fiscally responsible and business-like manner in all aspects.
8. Provide elite training, evaluation and unbiased assessment to players
9. Brand Stuttgart District as credible, professional and responsible organization dedicated to the development of young American Boy and girls as both athletes and ambassadors of the United  States.
10. Continually strive to improve the Stuttgart District experience for players, parents and fans.
HOW HAS STUTTGART DISTRICT PREPARED FOR TRAINING DURING COVID-19?
Stuttgart District, ProSoc GmbH, & US Youth Soccer consider the health and safety of our members and their families our top priority. All training will be carried out under the precondition of the DOSB (German Olympic Sports Confederation) guard rails. We have taken the following steps to deal with the coronavirus (formally known as COVID-19), and will remain consistent with Federal, State, and Federation guidance
– A hygiene officer has been appointed by ProSoc Academy, who is responsible for all concerns and inquiries regarding the resumption of training.
– All Coaches and responsible club employees are trained in the requirements for training operations and the measures of the club
– Documentation of training participation will be collected and all members will sign an agreement stating that they understand the rules for training and agree to follow them before they are allowed to participate in training.
– Protocols have been established to maintain the six (6) foot physical distance among participants, where possible, and between youth, adult leaders and coaches, and parents or other spectators.
– One half of the training space will be used by a maximum of one training group. The training times are to be organized so that a meeting of several training groups is avoided as best as possible
– Players can have access to the fields only when their team is scheduled for practice.
– Limit, where possible, physical contact among participants. No physical greeting rituals, including handshakes/high fives before or during training.
– Wash hands (at least 30 seconds and with soap) before and immediately after the training session.
– Players must bring their own beverage bottle; Players must not share cups, water bottles or other items
– Accompanying spectators are not recommended during training and should be avoided if possible.
– The shared use of changing rooms and showers is suspended for the time being.
– Access to toilets and wash basins with soap will be available. Only one person will be allowed in the bathroom at a time.
– The catering areas, social and community rooms of the clubs remain closed
– Players must avoid spitting and blowing their nose on the field.
– EVERYONE must leave the training area immediately after training; NO showering at the training grounds
We will continue to monitor COVID-19 and will provide updates to you with any and all changes.
1. WHAT IS THE USYS PROGRAM?
 U.S. Youth Soccer (USYS) is a non-profit educational organization whose mission is to foster the physical, mental and emotional growth and development of America's youth through the sport of soccer at all levels of age and competition. USYS has a current registration of more than 3,000,000 players between the ages of five and nineteen and is recognized as a leader in youth sports organizations. U.S. Youth Soccer is the largest member of the United States Soccer Federation (USSF), the governing body for soccer in the United States. All USYS Stuttgart players are eligible to try-out for the USYS Europe Olympic Development Program (ODP) and possible selections for USYS Regional Teams which are feeders to the U.S. Men's and Women's National Teams.
2. WHY IS USYS IN EUROPE?
The U. S. Youth Soccer membership is divided into four regions: East (Region I), Midwest (Region II), South (Region III) and West (Region IFV). USYS is made up of 55 State Associations; one in each state and two each in California, New York, Ohio, Pennsylvania, and Texas. USYS Europe caters to U.S. players overseas and is its own Region. USYS Stuttgart is a USYS Europe District comprised primarily of U.S. players.
3. WHAT IS THE LEVEL OF PLAY WITH USYS STUTTGART?
USYS Stuttgart is an invite program with selections resulting from an evaluation process to identify players who demonstrate a developed level of playing ability technically, tactically, physically, and mentally. These players are placed into appropriate age group competitive teams which train together under contracted professional international coaches focused on growing the player. Advancing each player's individual development to the next level is the core of our program providing structured age appropriate focused training progression for U-7 to U-19s.
4. DOES USYS STUTTGART PLAY IN THE GERMAN LEAGUES?
Yes. Placing U-9 through U-15 teams into competitive leagues which advance and relegate teams based on results ensures players are in the optimal playing environment for their development. USYS Stuttgart is an officially recognized U.S. Army Garrison (USAG) Private Organization providing advanced youth soccer development in Stuttgart. It is also an official German "Verein" ("Club") in the Württemberg Football Association or "WFV" playing under the club name "USYS Academy Stuttgart e.V".
5. DO I NEED A "GERMAN PLAYER CARD" TO PLAY IN USYS STUTTGART?
Yes, all U-7 through U-15 players need a player card. The German Football Association (DFB) is very strict about players ONLY playing for one club team at a time. There are two annual opportunities to transfer player cards between German clubs in January and July. New players to USYS Stuttgart who do not have a player card elsewhere in Germany may apply for a new player card at any time. Club player cards issued by U.S. states are not utilized in Germany, but the state soccer association will need to verify a player's status as part of the process to receive a German player card.
6. IS IT HARD TO GET A "GERMAN PLAYER CARD"? "I HEAR IT'S CRAZY DIFFICULT TO DO!"
It can be a difficult task to do on your own, but USYS Stuttgart contracts with a "Jugendleiter" or "Youth Manager", who handles the transactions. He serves as a "one-stop-shop" for our club players requesting WFV player cards by submitting all the paperwork into the German system and hand-walking our club members through every step of the process. This ensures players cards are processed properly and returned in minimal time, eliminating issues.
7. WHAT ABOUT PLAYERS AGED 15 AND UP?
For players in birth years 2001-2004, we have girls and boys U-19 teams whose primary focus is to prepare players for high school tryouts in March by training from September through February. The players also receive separate professional-level physical conditioning training in the spring. These teams do not play in the German leagues and do not require player cards. The U-19 team coaches are hand selected by USYS each year; the 2019-20 Boys team will be coached by a UEFA-licensed former Scottish professional player and the Girls will be coached by a USSF-licensed former MLS player. These teams focus on group tactical training and test their development through friendly matches against other "U-19 aged" German teams.
8. DO USYS STUTTGART TEAMS TRAVEL TO TOURNAMENTS?
Yes. Tournaments are a staple of our playing opportunities throughout the season with teams traveling within Germany as well as in Europe, such as The Netherlands, Austria, and France. This is one of the most amazing opportunities about being in Europe; getting to play internationally and gaining experience in different styles of play. USYS Europe also hosts an indoor and an outdoor tournament each year that bring together other USYS District teams to play each other.
9. HOW OFTEN IS THE TRAINING?
U-7 through U-15 players train twice a week on weekdays; U-7s for 60 minutes and U-9-U15 for 90 minute sessions; sessions start at 1730 for younger players and 1900 for older players during fall and spring. Winter sessions are indoors for shorter periods of time but still twice a week. German league games are normally played on weekends, but make up games can also be scheduled during the week. U-19 players train once a week on Sunday evenings for 120 minute sessions. Additional goalkeeper training and technical training sessions with specialized coaches are also available for all ages.
10. WHERE IS THE TRAINING?
U-7 through U-15 players train at TSV Hildrizhausen, which is approx. 6 miles southwest of the Böblingen/Sindelfingen area (Herrenberger Straße 60, 71157 Hildrizhausen). TSV Hildrizhausen offers multiple turf-like quality full-size lighted grass fields, club house, and restaurant. U-19 teams train at KV Plieningen, approx. 2.5 miles north of Stuttgart Airport (KV Plieningen, Im Wolfer 32, 70599 Stuttgart), which offers grass and turf lighted fields, club house, and restaurant.
11. WHO ARE THE TEAM COACHES?
USYS Stuttgart provides professional head coaches for all of our teams. Our coaches are contracted by ProSoc Academy, which provides international coaches with professional European team playing experience and many holding UEFA B coaching licenses. All coaches speak English and sessions are conducted in English. As players can only go as far as the expertise and experience of their coaching staff, professional coaching is a critical element of player development. Coaches provide focused age appropriate training in a structured progressive system as players advance through age groups.
12. DO YOU SELECT EVERYONE FOR THE PROGRAM?
No. Evaluations afford coaches the ability to select players who demonstrate developed skills, positive attitudes, and great effort. We will not select or place a player in an advanced playing environment if the player hasn't demonstrated ability for continued growth at a higher level of play. This is unfair to the player if they are not ready to play in this environment and negatively impacts their desire to play long term.
13. HOW MANY PLAYERS DO YOU TAKE?
There is no exact set number of selections by USYS coaches going into evaluations. If the player demonstrates the ability, we make every effort to find a place for them in the program.
14. HOW DO YOU EVALUATE PLAYERS?
Evaluations are normally done through two phases during a session. The first is a subjective technical evaluation designed to give a qualitative value to the player's technical ability. The second is centered on small sided games providing coaches a quantitative player evaluation in a playing environment. USYS Stuttgart evaluates against a player rubric model which is available for review by players and parents during evaluations.
15. DO I NEED TO ATTEND MULTIPLE DAYS OF EVALUATIONS?
No. All new players, regardless of age, must attend an evaluation. If a player cannot attend one of the scheduled evaluations, please contact us and we will make alternate arrangements. ALL U-19 players (Girls and Boys) must attend team tryouts to determine if they are ready technically, tactically, and physically to enter the U-19 program focused on 11v11 tactics and speed-of-play.
16. CAN MY CHILD "TRY-OUT" TO PLAY IN ANOTHER AGE GROUP? (AKA "PLAY UP")
No. All new players try-out for selection in their age group only. USYS has endorsed the USSF mandate regarding age group placement based on dates of birth after 1 January for each birth year. USYS Stuttgart utilizes two-year age groups of U-7, U-9, U-11, U-13, & U-15. The U-19 age group is for Varsity-level high school players. The USSF mandate is designed to place players in the appropriate developmental environment for their age. After try-outs, however, a coach may determine that the player's ability exceeds ALL other players in their age group to such a level that they cannot effectively develop in their age group; such an evaluation will be made without regard for any particular team desires or family desires and based solely on what is best for the continued development of the player. Exceptions to "play up" are generally very rare. WFV allows certain ages to play across ages with girls on boys teams or co-ed teams. These are handled on a case by case basis and closely discussed with the family to get the player in the right playing pool. A player who later decides to leave the program as a result of not being approved to "play-up" does not constitute grounds for a refund from USYS Stuttgart. Normal refund policies apply.
17. WHAT AGE GROUP IS MY CHILD IN?
Under 7s (U-7) DOB between 1 January 2016 and 31 Dec 2017 (Bambini)
Under 9s (U-9) DOB between 1 January 2014 and 31 Dec 2015 (F Junioren)
Under 11s (U-11) DOB between 1 January 2012 and 31 Dec 2013 (E Junioren)
Under 13s (U-13) DOB between 1 January 2010 and 31 Dec 2011 (D Junioren)
Under 15s (U-15) DOB between 1 January 2008 and 31 Dec 2009 (C Junioren)
Under 19s (U-19) DOB between 1 January 2004 and 31 Dec 2007 (B & A Junioren)